Rev. Abraham D. Allende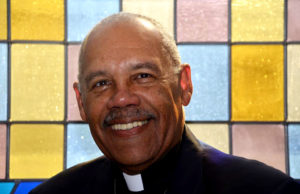 On May 17, 2014, The Reverend Abraham D. Allende was elected Bishop of the 180 congregations in the Northeastern Ohio Synod of the Evangelical Lutheran Church in America. He began serving as bishop on September 1. Prior to his election as bishop, Pastor Allende had been serving The Lutheran Church of the Covenant in Maple Heights, Ohio, since September of 2009. Pastor Allende had previously served as Pastor and Mission Developer of Iglesia Luterana La Trinidad in Canton, Ohio. He was ordained as minister of Word and Sacrament in the Evangelical Lutheran Church in America (ELCA) on January 18, 2003. A second-career pastor, Reverend Allende has held successful positions in the fields of education, broadcasting and as a professional baseball executive. He is a native of Bayamon, Puerto Rico and reared in the Pittsburgh, Pennsylvania area. Pastor Allende and his wife, Linda, currently make their home in Plain Township with their cat, Milagros (Mili). He has one adult son, David, a resident of Akron.

To contact Bishop Allende:
330-929-9022 x 29
aallende@neos-elca.org
Monday Musings
This Monday Musings reflection is a day late because of the holiday, so we title it: Monday Musings - Tuesday Edition.
I pray you all had a blessed and restful Memorial Day. We look ahead this week to the celebration of Pentecost, considered the birthday of the church.
Thursday, May 25, is the Ascension of Our Lord. It is one of my favorite festival days of the church year. However, few congregations in our synod, or anywhere else for that matter, will celebrate Ascension Day with worship. There are some that will observe the Ascension this coming Sunday, bumping the seventh Sunday of Easter from the calendar. But I suspect that most will simply not observe it at all.
Around the Lutheran Center (synod office) we are in "pre-assembly mode." With less than a month to go before our annual Northeastern Ohio Synod gathering, June 9-10, at the John S. Knight Center in Akron, we are busy making sure that all materials are ready, reports are completed, registrations are recorded, and everyone is prepared for the day-and-a-half when we meet to worship, fellowship, and deliberate the matters of the church.